FIRST RESPONDER TRAUMA TRAINING
FIRST RESPONDER TRAINING
Retired police sergeant and PTSD survivor, Travis Gribble, shares his story of his personal & agency lessons learned regarding mental health & how to smash the stigma regarding coming forward when we struggle with trauma. A trauma therapist will accompany Travis, providing the clinical perspective & explain the treatment options available. 
4 Hours
FAMILY EDUCATION & SUPPORT
Trainers will walk family members through navigating the challenges of having a first responder in the family in a relaxed setting. Tools & resources will be provided along with Q & A May not be suitable for children under 13.
2 hours
TRANSITIONING FROM FIRST RESPONDER CAREER
Leaving the career by injury, choice, or retirement can be difficult. Trainers will provide tips for returning to civilian life in a healthy way.
2 hours

CONSULTING
Trainers will provide a white paper review of the agency's critical incident policies & procedures. Recommend best practice protocol.
30 Days
Saturday, September 16, 2023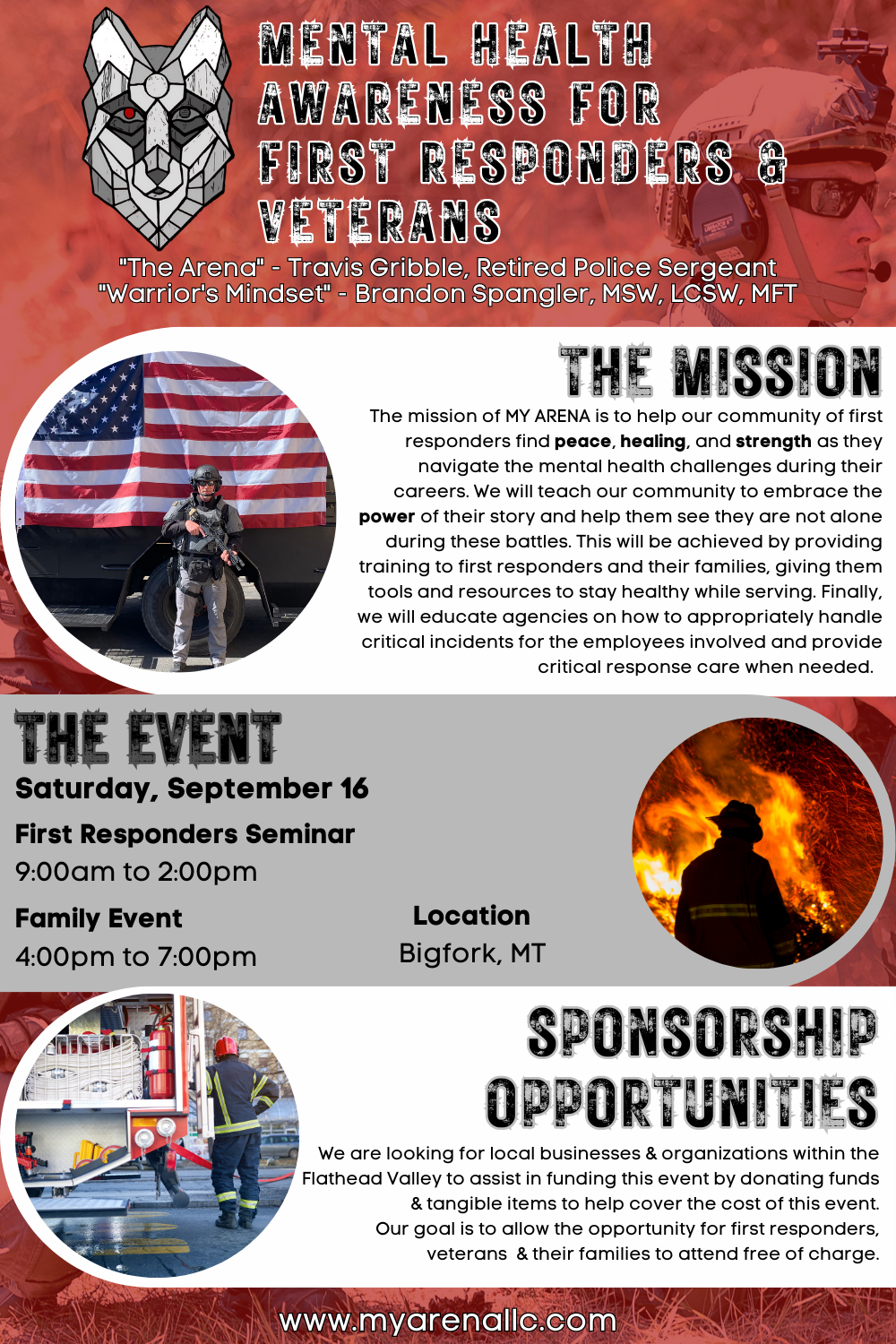 THE EVENT

Saturday, September 16

Bigfork, Montana

First Responder & Veteran Event - 9:00am to 2:00pm

Family Event - 4:00pm to 7:00pm

This event will focus on bringing awareness to the Mental Health of our First Responders & Veterans. It will also introduce them to coping techniques for Post Traumatic Stress Disorder (PTSD), advocate for seeking help, and integrate their families into the healing process.

By bringing Brandon Spangler, MSW, LCSW, MFT to share the "Warrior's Mindset," there will be clinical perspective and opportunity to have open Question & Answer portion of the presentation and techniques learned.
SPONSORSHIP OPPORTUNITIES

We are seeking donations to sponsor this event in order to provide First Responders, Veterans and their families in the greater Flathead Valley the opportunity to attend FREE OF CHARGE.

Donations & Sponsorship to provide things such as:

Presentation Materials
Clinical Services
Attendance of First Responders
Seating & Tables
Audiovisual Equipment
Food & Beverage
Lodging Expenses

... and assist in raises funds for Veteran Services & First Responder Services!
SPONSORSHIP LEVELS

SPECTATOR: $150 - Sponsor the attendance of 2 First Responders and/or Veterans, listed on marketing materials, listed and linked on event landing page

SHIELD: $300 - Sponsor the attendance of 4 First Responders and/or Veterans, logo featured on marketing materials, logo featured and linked on event landing page

SWORD: $500 - Sponsor the attendance of 7 First Responders and/or Veterans, social media feature, shoutout during even announcements, 4'-6' vendor booth at family event, benefits listed in above level

GLADIATOR: $1,000 - Sponsor the attendance of 12 First Responders and/or Veterans, Logo on Seats, social media dedicated post, listed as "gladiator level" sponsor, benefits listed in above level
EVENT INFORMATION

To Make Donations & provide Sponsorship:

Taylor Huntman, Publicist or Travis Gribble, Founder
taylor.poling.huntman@gmail.com tgribble3404@gmail.com


www.myarenallc.com